Contd from Jalianwala Bagh.. ..
Our next stop was Golden Temple, just 400 meters from this place.
Our next stop was Golden temple; we walked up to the place. The road leading to it is full of regular shops on either side selling famous Amritsari papad-wadiyan, Jutti and souvenirs.
From outside, the temple with a clock on the tower, gives an illusion of any heritage building hosting some museum or so but once you deposit your shoes, cover your head (it is compulsory), dip your feet in water and descend those white marble steps, the Golden temple is revealed to you in all its glory. You are in a different pious world altogether.
Name– Sri Harmandar (Punjabi pronunciation for (Hari + Mandir)) Sahib, also known as Sri Darbar Sahib or Golden Temple and is named after Hari (God) the temple of God. The Sikhs all over the world wish to pay visit to this place and pay obeisance (mattha tekna) at Sri Harmandir Sahib in their Ardas.
There is something special about the Golden temple. Unlike erecting the structure on the higher level, a common tradition in Hindu temple architecture, it got built on a lower level and unlike most Hindu temples having only one gate for the entrance and exit, Guru Sahib got it opened from all four sides though for security reasons not all of them are open now.
Also, unlike many orthodox temples, he made it accessible to every person without any distinction of caste, creed, sex and religion thus creating a symbol of new faith, Sikhism.
The main central structure of Sri Harmandir Sahib is a three-storied building and the front faces the bridge which connects it to the 15 feet wide circumambulatory path. The path runs round the main shrine and it leads to the 'Har ki Paure' (steps of God).
The third storey, in the form a single room, rises exactly on the top of the central hall of the main sanctuary and a regular recitation of Guru Granth Sahib is held here. The dome of this room is in the shape of inverted lotus on top of which is a Kalash having a small umbrella.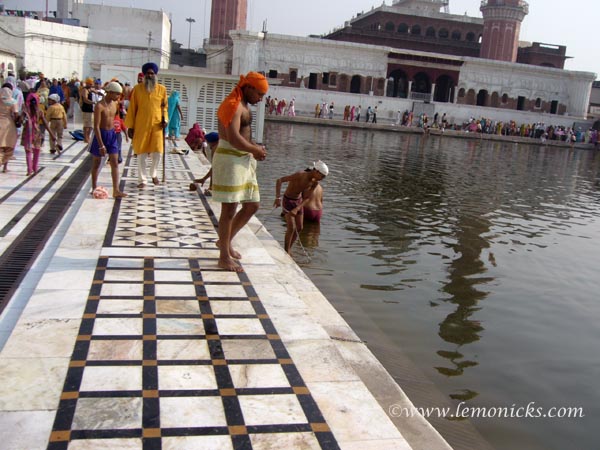 What I noticed was that the architecture represents a unique harmony between the Muslims and the Hindus way of construction. It is said that this architecture has created an independent Sikh school of architecture in the history of art in India.
It has been damaged many a times and bears the scars of the violence of partition, the atrocities of Jalianwala Bagh and operation Bluestar. Yet each time the city has rebuilt its shrine with unshakable determination.
The temple has quaint captivating magic that results in an overwhelming atmosphere of devotion. Make your parikrama of the Harmandir Sahib, sit alone meditating, dip for a holy bath, partake of the langar and move on reassured of the faith in humanity.
We had limited time with us, still I wanted to visit it again after dark.. .. to see its immense beauty in night. The shining façade of this graceful gurudwara is accentuated not only by hundreds lights but by the faith and devotion it commands from its followers, many of whom are not even of the Sikh faith.
We saw all kinds of people there, all with a different hope and faith. Will write small stories about them later.
Hari = God
Mandir = temple
Ardas = Prayers
Our next stop was Wagah border. To be contd.