Sorry madam, single woman are not allowed !
Have you heard of this phrase ?
I have. I have experienced it.
The Charminar (Mosque of the Four Minarets)….
I was traveling alone to Hyderabad…  June 2009. I remember clearly; it was a Saturday, a public holiday when I had decided to see Charminar (Four towers) and it's surroundings. After satisfying myself with the time spent at Mecca mosque, I moved forward towards famous and charming Charminar.
There was utter chaos and rush everywhere; the roads were full of small vendors luring tourists to buy postcards and other stuff.
Queue to go up…
I could see a long serpentine queue to go up the Charminar. Another queue to buy tickets was also long and had spread onto the road. There was only one ticket counter but that was ok since the queue was moving fast. Lathi wielding staff was well experienced to manage the crowd well. So, I too joined.
Before my turn came, suddenly one of them realized I was alone ! He told me I was not allowed to go up.
Why?
'For precautionary measures we don't allow single woman'.
At first I thought he was kidding. But others in queue agreed with him. Now, this was ridiculous, an insult. No, I won't budge. I firmly stood there. As the queue moved, I moved too.
Public is discouraged to go near the railings.
Two more persons came and requested me to come out of the queue. They were polite but firm. They didn't have lady police and couldn't have touched me.
I stood my ground, wanted to know a more authentic reason. I was not a terrorist, I wasn't carrying any arms, I wasn't a foreigner not understanding the local language and for God's sake, I didn't even have Swine Flu !
"Why don't you understand? We want to save you."
Save me? What from ?
Arguments and counter-arguments… moving ahead in the queue I expressed my wish to speak to someone higher who could at least listen to me. I reached ticket counter and bought a ticket. The gentleman at the window was too busy to even look up, let alone bothering about who the buyer was.
Yay !! I had a ticket.
Looking down…
Fortunately there were two independent sets of guards, one monitoring the ground level and the other set at upper level. Holding my precious ticket, I came out again on the road, wondering how to go up. I am not the one to accept this kind of indignity.
My good fortunes ! They say God helps those who help themselves.
I heard a conversation. There was an elderly couple from Amritsar on a business trip contemplating whether to go up Charminar or not. Husband was keen but the wife didn't want to stand in that long queue.
Ah ! there I could see my chance. I politely introduced myself and convinced them to go up. A trip to Hyderabad is incomplete without seeing Charminar. I offered to wait there with the lady till the gentleman brought two tickets.
In the meanwhile I told them my problem as well. They were also as surprised as I was and asked me to be with them.
Nonetheless, now we were three and nobody could stop us me. On the upper floor, there were more guards and more vigilant constantly asking people not to stand in one place for long and dutifully checking for any mishaps.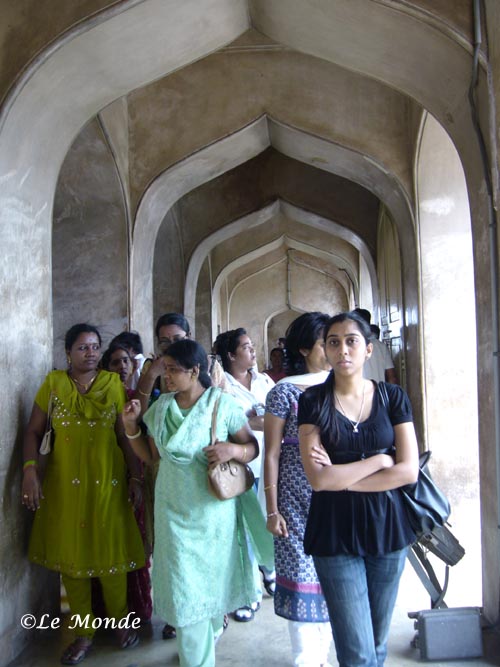 Ladies should always be in a company.
Apparently we spoke to few locals & came to know there have been too many suicide cases and stopping single women from going up was the easiest step they could think of.
Points to ponder :-
1. Why only women, a man can also commit suicide?
2. Why this restriction on a public holiday when the place is fully packed?
3. Why there was no lady police/ staff/ guard ? Not a single one. Suicide again?
4. Instead of having 20-25 lathi wielding yelling guards in that small place, wouldn't it be better to have some raised railings?
5. For same reason, why only suicide? A murder can also take place.
6. Why were they worried about only one death ? There was no security check for bombs etc, no deposit of bags. Anyone could carry explosives up there.
—-
For regular personal updates, subscribe to this website by e-mail or on your reader. For those small stories and tit-bits that don't always make it to this place check out my Twitter or Facebook accounts.