True to its claim, Malaysia is really a reflection of Asia in every manner. Beautiful in its own way. The major touristy cities are busy and bustling with life while the hills are quiet and calm. The people are very helpful and friendly everywhere even if they don't understand your language.
Trisha in Malacca
I consider myself a traveler more than a tourist. Obviously, we wanted to see and live the real Malaysia. We wanted to see its people and learn something about them and their country. So, booking a packaged tour was out of question even though it is far more comfortable and hassle free.
As I have mentioned earlier, we had booked just the air-tickets to & fro Mumbai with Malaysian Airlines and nothing else. We wanted this trip to be an adventurous one from every point including our stays. Nonetheless, we stayed in all sorts of places; from decent ones to frill free shared baths types. The credit for the latter goes to me. 😛
More details on this later.
Kek Lok Si Temple, Penang. Can you notice something here?
We did not have any fixed agenda. To start with, before leaving India we had at least 5 places in our mind for our 12 day break. Some of them got swapped with new ones because of some reason or the other but that was all part of the game.  We enjoyed the change and unexpectedness.
I loved the beautiful, wide roads of Malaysia and the open space.
I had read somewhere, the roads are not that good once you are out of Kuala Lumpur but I think it is a perception of an individual coming from probably a much more developed country. As an Indian, I can say that unlike India, the roads are well maintained throughout the country and not only in cities.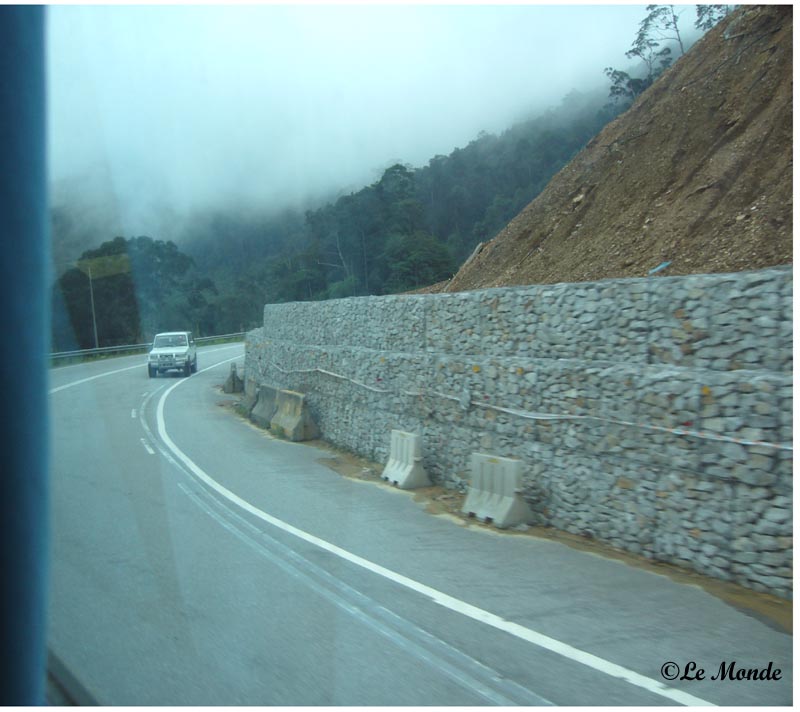 On way to Cameron Highlands. Can you see clouds kissing the mountains ? And the road ?
You can see both Petronas twin tower & KL tower in this picture
I don't know how they managed to do it but there is absolutely no slum in any of the city that we visited. I think the cities here are developed on the pattern of Singapore.
If we speak about Kuala Lumpur, plenty of open space, parks, skyscrapers and a good transport system are part of it.
When I called Malaysia a reflection of real Asia, how could one even assume there would not be any cheating, begging, pick pockets or taxi drivers not going by meter ! 😀
I loved the atmosphere there. One does not feel homesick.
The main religion of Malaysia is Islam but there is no dearth of Hindu temples, churches or Buddhist places of worship.
Conservative and yet subtly open to PDA (Public Display of Love), at least in the cities. That's Malaysia.
I will be writing on all aspects of this country from people, places, places of stays, price tags, transports, food and tips etc. I am sure; you will gain something if you ever plan to visit this country.
Keep reading.
Note– Click on any photo to see enlarged version.