Rolex, Tag Heuer, Omega, Cartier, Longines, Jaeger-LeCoultre, MontBlanc, Richelieu,  … are few names that we have heard in Swiss watch industry. There are more than 30 such brands.
Among other things Switzerland is famous for world known watches and clocks. These pieces manufactured in Switzerland bear the designation "Swiss made". This label enjoys a trustworthy reputation throughout the world. "Swiss made" embodies a concept of quality that has been forged over the years.
A proud bunch of people own Swiss watches and I am one of them. 🙂
Oh but I am not speaking about those watches or clocks which you can buy and take home. This clock is different and changes its colourful dial very often.
Geneva being watch capital of the world is also called 'Watch city'. To corroborate this, the city has a unique Flower Clock which is a symbol of Geneva's watch industry. Situated on a small hillock, it's at the edge of the Jardin Anglais, alongside Lake Geneva and is a famous landmark of the city.
Celebrating Switzerland's watch-making industry, the most famous timepiece attracts crowd of hundreds every day.
It was my favourite stop on weekend walks, an excuse to check if my watch was working fine by matching with this one. 😀
It is a masterpiece of technology and floral art. Earlier it had a sole dial but the new millennium provided it with eight circles which bloom with around 6,500 seasonal plants and flowers.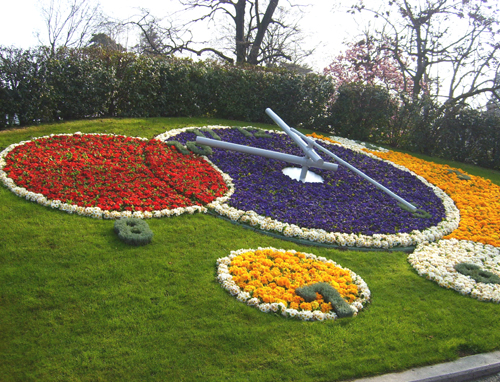 Did you know that the second's hand of Geneva's Flower Clock is the largest in the world at more than 2.5 meters long ?? 😀
Photograph Copyright: 2nd & 3rd – borrowed from a friend.
Technorati Tags:- Geneva Flower clock